I'm a true hybrid — a wild blend of pool guy, philosopher, social media geek/guru, entrepreneur and family man – so building hybrid pools is a perfect fit for me. With every project I undertake, I push the limits of creativity, applying best practice building techniques with new artistic expression. For me, hybrid pools offer unlimited opportunities to play and explore. And they've expanded my business in ways I've never dreamed possible.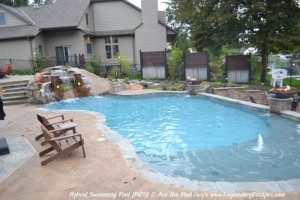 I've been in the pool industry for almost my whole adult life, logging 28+ years in the business. Like you, I've seen new products, new trends and all sorts of innovations and I am always excited to learn something new that I can pass on to my customers and help create the perfect backyard lifestyle.
My adventure into "hybrid" pools began years ago when a customer wanted a traditional vinyl liner pool, but also wanted to put deck chairs in the shallow end and have a swim-up bar with stools that would sit in the water — possibly tearing the liner and causing expensive repairs.
I suggested a combination of two traditional pool building techniques; the body of the pool would be done with a traditional vinyl liner, and the sun shelf plus swim-up bar and table area would be crafted in gunite. The clients absolutely loved the idea, and my career in hybrid pools was launched. With hybrid pools, I can challenge the boundaries of what my customers expect, and deliver a truly life-enhancing addition to their home.
Some manufacturers are answering the demand for sun shelves and other such add-ons with steel covered vinyl systems. That's one way to go, but your customers are still limited to what the manufacturer can supply, and durability issues, instead of a solution that will truly fit their lifestyle. If you want to offer off the shelf solutions, that's okay, but you may be missing out on a tremendous opportunity.
Are you ready to dive into the world of building with innovation? What are you doing that is new, different, or incorporates a special way of design and building? Building hybrid pools are just one way, there are many more customized options that you can provide. Making yourself stand out through your designs is one of the best ways to grow your market, and enjoy your work.
Giving Them What They Want = Real Customer Satisfaction
Congratulations: You are about to embark on a journey that will be challenging, possibly frustrating and a whole lot of fun.
As you begin the design process, ask the homeowners how they see themselves using the space. How will the pool integrate into the rest of the yard, patio, walkways, decking? Do they want a swim-up bar? Would they like deck furniture that sits on a sun shelf or shallow area of the pool? What about slides, grottos or other built-ins? (We did one hybrid project for a pizza-baking family that included a massive wood-fired brick oven integrated seamlessly into the overall design. It was a fantastic use of the hybrid pool's best features.)
The beauty in the hybrid is that you are only limited by imagination and potential budget. Not only are you free to create new shapes, new designs and new functions for your customers, you can do it in ways that meet their needs exactly. By building hybrids, you automatically move yourself out of the run-of-the-mill pool builder set and into the world of custom work. This, as I've found in my own work, is where you build a lasting reputation as a creative and responsive pool builder who really understands your customers and what they want.
In this kind of space, referrals seem to take care of themselves, and we've been able to take our pick of exciting and challenging projects. As more homeowners see these awesome hybrid pools, the general feeling seems to be "It's gorgeous! I want one!"
And that is the best kind of referral you can ask for.
{Published in AQUA Magazine August 2014}