Nationally Recognized Pool Builder Returns to his Local Roots
(Brighton, MI) – More than 20 years ago, local backyard pool builder Al Curtis was instrumental in creating the first ever consumer-based pool show in country, held in Novi, Michigan. Fast forward to spring of 2016, and the now nationally-recognized Curtis returns to his local roots to exhibit at this year's Backyard Pool & Spa Show in March.
In the intervening years, the industry has seen its ups and downs, including a new focus on truly customizable backyard poolscapes.
"Looking back to that first show, I could never imagine the kind of pools we'd be building today," says Curtis, talking about the custom hybrid pool creations his company, Legendary Escapes in Brighton, builds.
Curtis explains the idea of the hybrid pool as a blend of vinyl liner and custom gunite pool. The combination allows his company to create one-of-a kind pools with unusual shapes and features like grottos, swim-up bars and sun decks.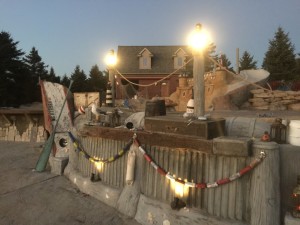 Curtis has been building and servicing pools in southeast Michigan his entire career, while using social media to expand his influence nationwide. He's been a feature contributor to AQUA Magazine, the leading industry title, and has won several prestigious industry awards. His company has built an extensive online video library of how-to information, making his "Ask the Pool Guy" persona media a celebrity both locally and on a national level.
Even with this national exposure, Curtis realizes the importance of this yearly consumer pool show in Novi.
"This is the only customer-specific show in the country," he notes. "We attend probably six or eight industry-specific shows a year, but this one is always fun because we get to talk directly to the homeowners. And with our social media presence a lot of these consumers come to the show looking to meet us, and they feel like they already know us from our online presence. That's pretty great."
Curtis says his company's focus on boutique-style hybrid pools has helped solidify their reputation.
"People come in asking about hybrid pools, a phrase that we coined maybe six or seven years ago," Curtis notes, "and at the time we were the only ones we knew of doing this style of construction. We're happy to see other builders in other parts of the country beginning to do this. We don't look at it as competition, but as shared knowledge that makes for better pools and more happy customers."
Al and his team will be exhibiting at the 21st Annual Novi Backyard, Pool and Spa Show March 18 – 20, 2016 at the Suburban Collection Showcase. The show is sponsored by the Michigan Chapter of the Association of Pool & Spa Professionals, the largest aquatic industry organization in the world.
For more information about the show contact Angela Story at 734.398.9700.