Swimming Pool Coping
The Coping and Liner Track on a vinyl liner pool is something that a homeowner may want to renovate while doing a vinyl liner replacement.
Standard Pool Coping for Vinyl Liner Pools comes in many different styles. Here are a few of the commonly used choices. Note: The coping and track are commonly referred to as the "coping", though they can come built into one piece, or they can be installed separately.
When it is time for a renovation, the coping/liner track combination could be replaced by a new coping/liner track combo, but only if the liner and the concrete patio are both being replaced.
Other options include removing the existing coping and installing new coping in a variety of materials including stone, bluestone, pavers, or cantilever pool deck, and also installing a surface mount "coping" also known as "liner track" for the pool liner to track into.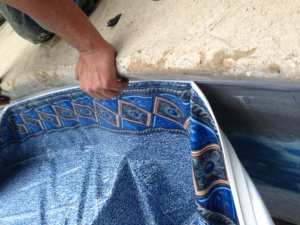 This increases the choices, looks and styles for a homeowners pool.
Save