Tru-Tile – A Ceramic Tile System for Liner Pools: Enjoy all the advantages of vinyl with all the beauty of real tile!
The only system currently available to add ceramic tile to a vinyl liner pool is TruTile by Latham Industries. The product is amazing – and the installer needs to be experienced enough to be able to buy the product from Latham. For the installers that do, and can make sure to install it properly to ensure it will be watertight, it's the perfect solution.
TruTile creates the ability to have ceramic tile (like you'd see in a gunite pool), installed in a vinyl liner swimming pool.
Works in a vinyl liner pool designed for the TruTile system
Works best with six-inch ceramic tile designs
All floor patterns are available for your vinyl liner
Vinyl liners are softer to the touch than concrete pools
Trim colors come in white, gray and blue
Most of the Legendary Escapes Hybrid Swimming Pools are built with TruTile: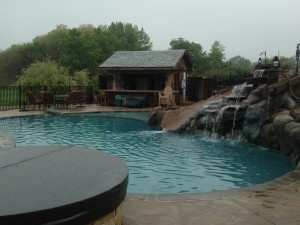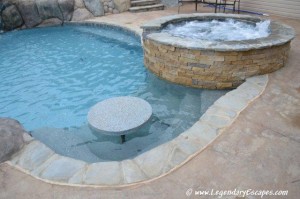 How to Install Tru-Tile
Ask the Pool Guy's tip for installing Tru-Tile by Latham Industries {Legendary Escapes}




(Latham Video)